Live Motion Tracking and Masking for

"Breath"

---
An interactive performance produced by Plateforme Plattform as part of a French-German-Romanian interchange programme.
Featuring an inflatable structure created by Frank Fierke and coreography by Natacha Paquignon.
The artistic perfomance explores the relationship between humans as living beings and natural phenomena. The objects' chaotic responsiveness is enhanced by projections, lights and sounds
BLA BLA BLA
in a synnergetic contrast with the performers attempts at maniplulating it.
As part of CINETic's Interaction design team; Sebastian's techinical contribution consisted of developing a system that would allow live tracking of the inflatable object.
To this purpose live video feeds were extrapolated over depth camera data in order to accurately create a mask of the object in real time. The mask and motion intensity data was relayed to the software and informed the projections in real time.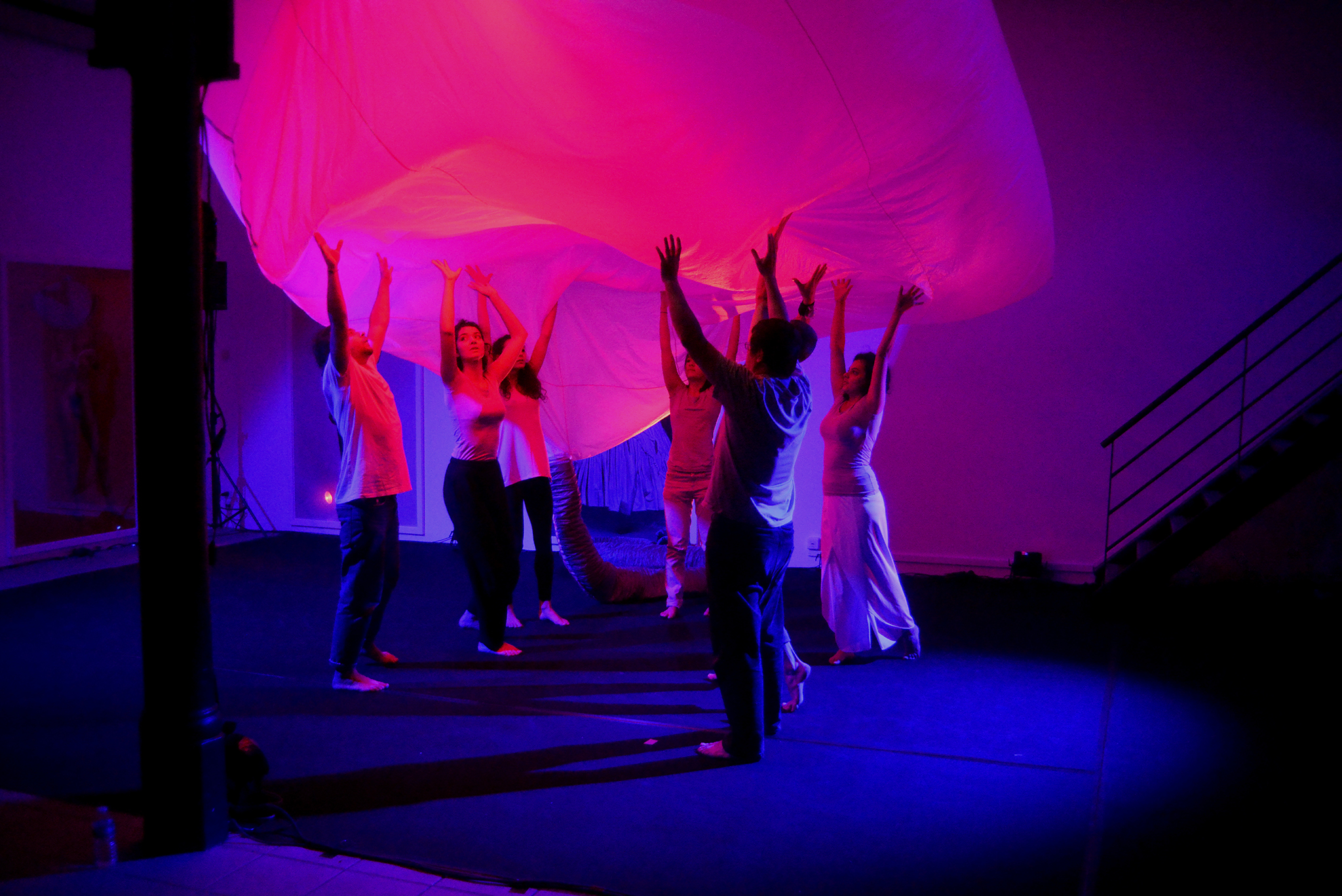 The concept and storyboard was developed during an initial worksession hosted by the University of Wismar and under the supervision of the German artist Frank Fierke.
The second phased involved individual study and ideation and conceptualization with follow up video-calls at regular intervals.
During the pre-show period the dancers developed the coreography with Natacha Paquignon on site while the other teams did the technical set-up and ran tests and calibrations.
Photo/Video: Quentin Mariotti
︎
The first worksession took place between 29 Sept and 03 Oct @ Hochschule Wismar
The second worksession took place between the 2nd and 8th of December @ Lycée Edouard Branly
The official presentation of the performance was held on December 6th 2019 @Goethe-Institut Lyon during
Féte des Lumieres Festival
.
Links:
︎
Plateforme Plattform - Performance Coverage
︎

Féte des Lumieres Festival - Performance Showcase

︎

CINETic - Performance Coverage
Project Partners:
Plateforme Plattform
Goethe Institut
Office franco-allemand pour la Jeunesse / Deutsch französisches Jugendwerk
Ville de Lyon
La Métropole Fondation
Hippocrène Région Auvergne-Rhône-Alpes
Consulat Général d'Allemagne